Things have moved on swiftly since my last blog with a much-needed improvement in the weather allowing training to motor ahead and the daily chores to become pleasurable again.
My training ground has both expanded and contracted. Whilst I can now use the cross country course again, although I have yet to do so, and I have found a 1km canter track around an ex-daffodil field; I have lost a couple of really convenient cantering areas to the plough. The beach and dunes, as always, are a great place to train but the beach is beginning to fill with holidaymakers as soon as the sun shines.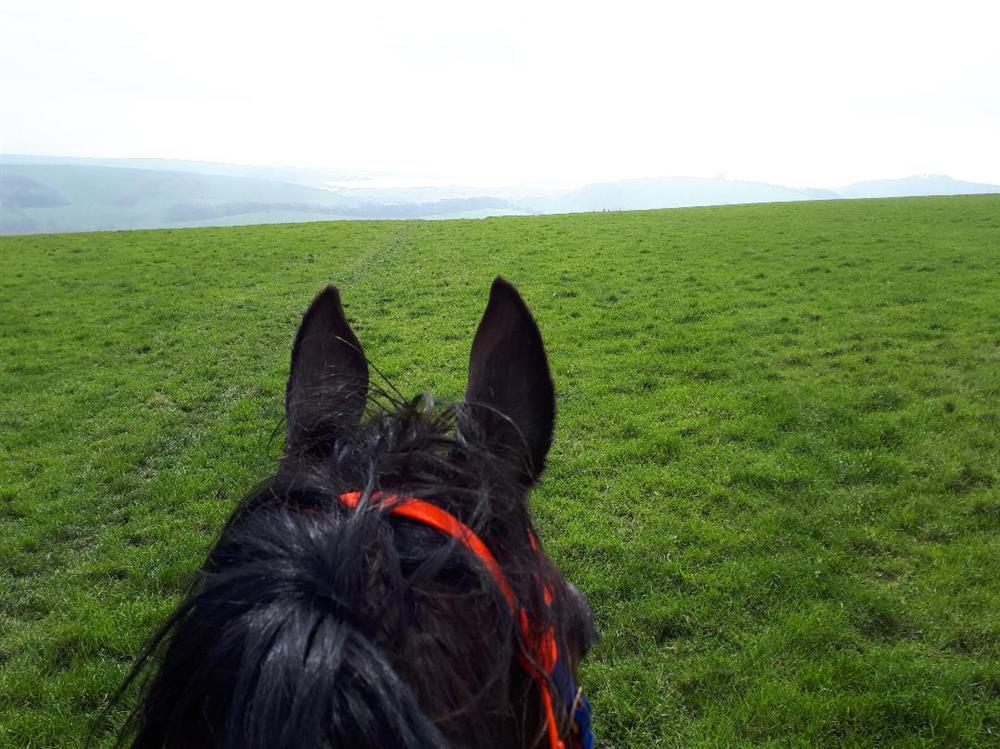 Both Fantom and Chiara needed to go up a level in fitness in preparation for their first serious competitions. To aid with the build up of stamina I entered each of them in a 64km competition to do some steady work over varied ground. The great British weather ensured that this was not the straightforward process you might think with Fantom's planned outing being cancelled, me switching him to one two weeks later only to get that one cancelled too. Chiara's planned excursion too didn't come off, although that was more due to food poisoning on my part than to the weather.
Ok so a bit of competition shuffling was needed. Chiara's planned 2* 120km debut is at Royal Windsor on 11th May so priority had to be given to her and to that end I entered the re-scheduled event that I had originally planned for Fantom. The route for this ride goes through beautiful Dorset countryside overlooking the magnificent Dorset coastline and Chesil beach.  Although lovely weather when we arrived the evening before, unfortunately the mist descended overnight and we started in thick fog.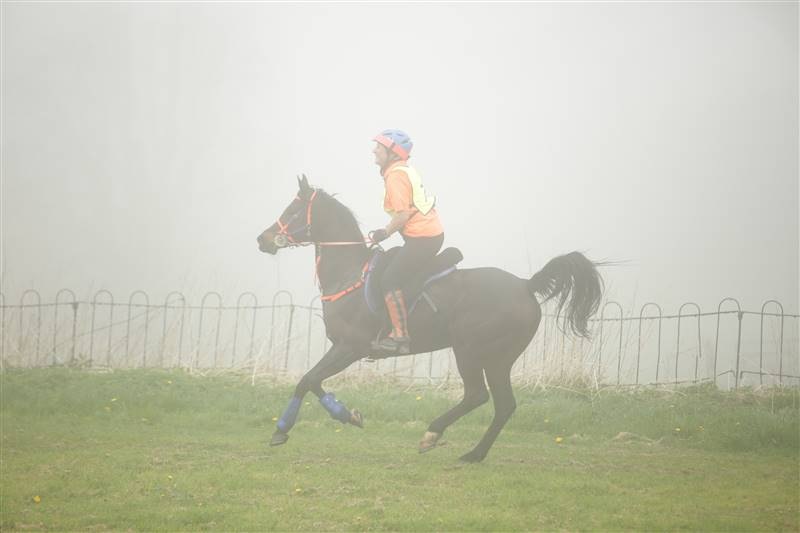 I started as early as I could as I wanted to give Chiara as much space as possible which proved to be absolutely the correct decision.  Chiara, being a somewhat onward bound individual, soon settled into her stride and, as every pace she possesses is as fast as possible, she ate up the distance.  We still have issues in the vetgate where she simply won't relax and stares around her watching everything.  However, at the halfway vetting we just squeaked through with a pulse of 64bpm even though it had dropped very quickly after coming in off the loop before actually going into the vetting area.
The second loop was wonderful and the fog even cleared in patches and we saw a brief glimpse of the sea after crossing the ridgeway for the fourth time.  This is a fantastic piece of grassland which stretches on and on allowing a good steady, almost uninterrupted canter which is exactly what Chiara needed as part of her preparation for Windsor.  At home any sustained cantering attempts results in a pitched battle with neither of us obtaining our objectives!
All in all it was an excellent day with Chiara coming second in her class with by far the fastest speed and thoroughly enjoying herself.  Definitely a most enjoyable and satisfying experience despite the fog on course.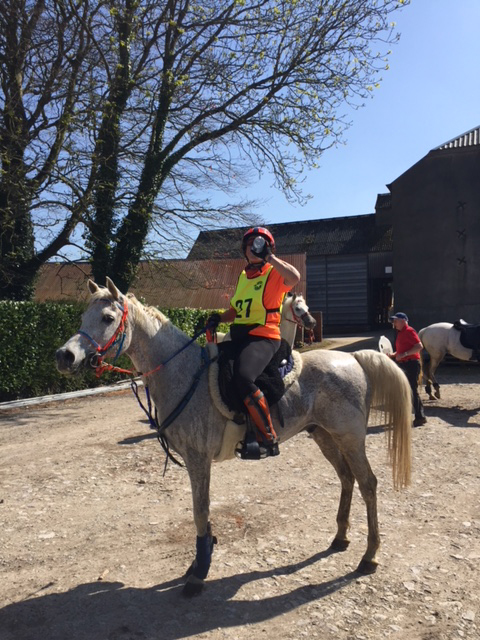 I decided to enter Fantom for a 52km competition two weeks later also in Dorset but further inland than the other one.  In contrast this was pretty hot for so early in the season especially bearing in mind the particularly cold and wet spring we had experienced.  On the day we actually downgraded to a lesser distance of 42km as the competitive element of the 52km had been removed.  This was an extremely hilly ride with lots of gates but also lots of cantering possible, a pretty good all round fitness exercise and Fantom excelled himself competing well within his capabilities but also at a good speed.
Dilmun has, unfortunately, taken a bit of a back seat but plans are afoot for him to contest a couple of short distance two day competitions.  Work on his fitness (and on reducing his over-indulgent body shape) needs to commence pretty soon.  The ancient Wizard, on the other hand, has found his niche being pampered and loved by his rider and two admiring daughters.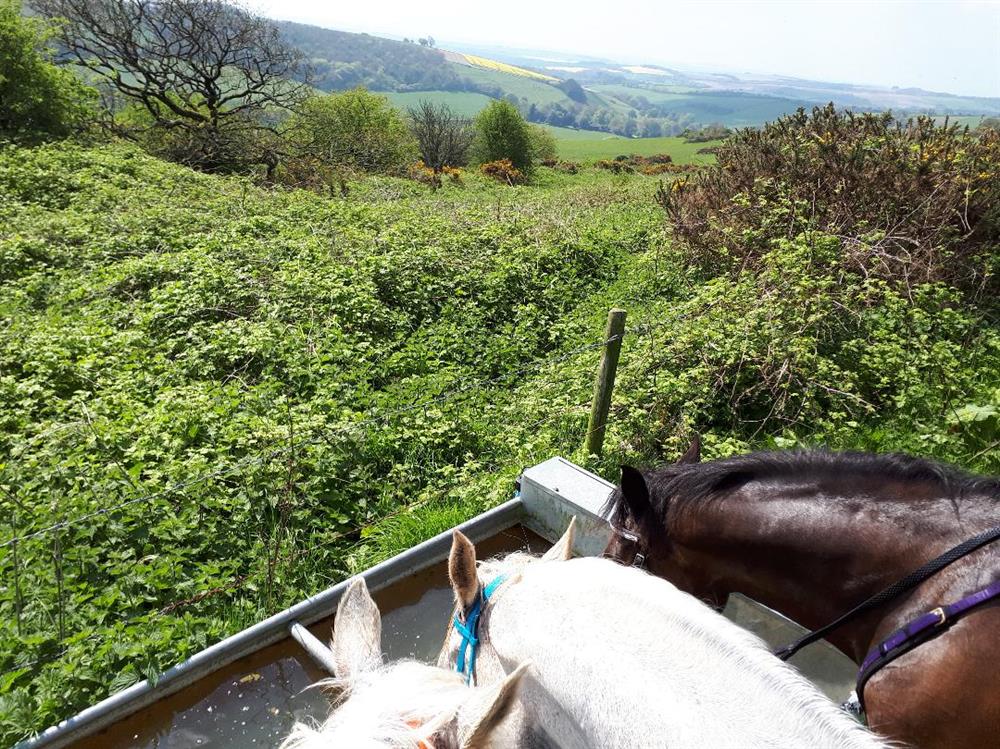 As I write, Royal Windsor is only three days away and I have started the frantic cleaning and packing of every conceivable piece of kit that any horse could ever need.  I was really lucky to get through the ballot as places at Royal Windsor are much sought-after.  Fingers crossed it all goes according to plan.
I originally planned to do a 3* with Fantom at the end of June but I don't now think he will be ready for this so after Windsor I will start preparing him for a competitive 1* and see how he goes...... Exciting times!