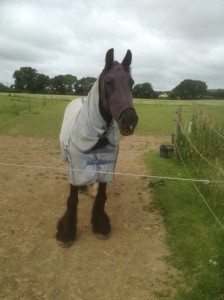 This is the story of Black Magic, our new Horse Of The Week. Magic is a Full Cob, standing at 15.2hh and was born in 1995. Her story is told by Hazel Elliott: "I keep my mare at a lovely livery yard in Hampshire, everyone is very friendly and we all look out for each other and our horses. One young lady Nicola was a passionate lover of animals, her mare "Magic" was the shiniest, most pampered equine on the yard. Nicola's husband used to say that he knew his place in the pecking order: Horse, Hamster, Husband! Nicola adored all three of them.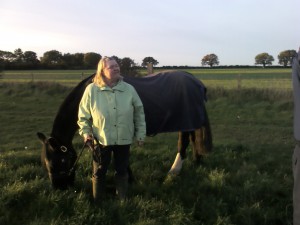 Some years ago whilst having coffee, Nicola and Lynn, a lady from the same livery yard, made a pact. They agreed that if anything happened to either of them, then they would take on each other's horses, never thinking that it may become a reality. Tragically, Nicola was diagnosed with an inoperable brain tumour last year. Magic was her inspiration to keep going. We all admired and were moved by Nicola's determination not to give in, she continued riding until a few months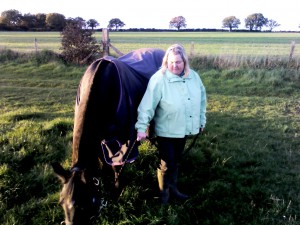 before her death earlier this year. Lynn is an amazing lady who has two horses of her own, but without question she took Magic on. With the help of others on the yard and one new lady in particular Donna, whom is new to horses but has enthusiasm in bucket loads, Magic continues her life at the farm.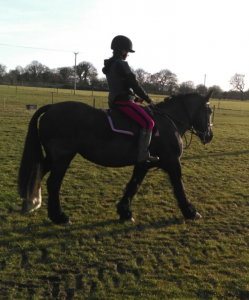 Donna enjoys riding Magic, but was finding her behaviour difficult to manage at times. I recommended Hormonease as it has been a revelation for my mare. Within a few weeks of taking it, Magic was a reformed character, she was very relaxed and the stress of those seasons had vanished. She now has a purpose, and is proving to be a joy to ride. Donna's confidence has increased, and this new partnership is developing well.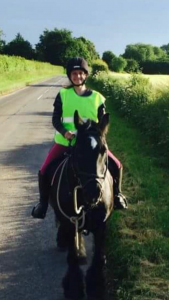 So, a big thank you to the Feedmark team for a great product, which enables both horses and riders to benefit." A FREE tub of Hormonease is on its way to Magic for being our Horse Of The Week! COULD YOUR HORSE BE THE NEXT HORSE OF THE WEEK? Each week, the Feedmark team select a horse of the week from reviews, letters and emails sent to them. If you would like your horse to feature, then please send your horse's details in to [email protected] .