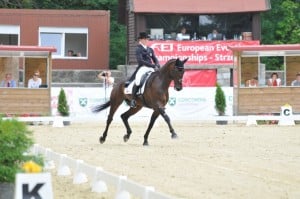 Wow – what a fantastic season. Of course our highlight was winning both Individual and Team Gold at the FEI Young Rider Europeans in Strzegom, Poland. Having won Individual Bronze a couple of years ago on Pioneer Silvie my experience of a championships was very positive. Although Livingstone II was on flying form I was naturally a little apprehensive as it would be hard to better my result from 2013. But boy was I wrong! He's a very special horse but never has everything 'clicked' so well. It was pretty close to being the perfect performance. After leading the dressage on 32.7 I knew that it was mine to lose! I took a couple of long routes on the cross country (one on team orders and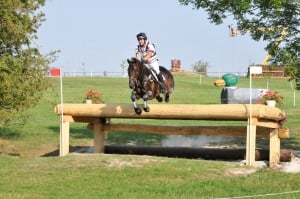 the other just to ensure a clear round to put the team in an almost unassailable position.) We still managed to come home with just a handful of time faults to remain in pole position. I had originally hoped to get to Bramham U25s earlier in the year but due to Livingstone having time off at the beginning of the season we had to hold back a little so it was really nice to see people that said he made the track look like 'a stroll in the park.' We managed to stay more than 4 penalties ahead of Sophie Beaty in second place so psychologically it was very nice to have a pole in hand. Fortunately enough we didn't need it and Livingstone was feeling fresh as a daisy and jumped amazingly. We had done it – won individual and team gold. Huge congratulations to all my Team GB team mates; all 6 of us occupied the top 15 with 3 of us in the top 4. It was a really professional performance by all and we were all very pleased to have done our country proud.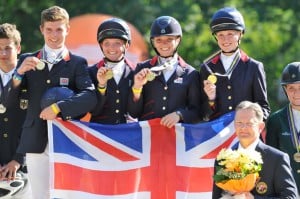 My 2 very promising 6 year olds Elstar and Esprit have progressed really well having both finished the season at novice level. They have both had some time off to rest, both physically and mentally, then the winter fitness work will commence. We said a sad goodbye to Funny Boy Fortuna to a lovely new home with Josh Moore. A very talented young rider with a good future ahead of him. We welcome Woodlands Be Dignified, a very smart 5yo gelding by Billy Be Cool owned by Lisa and Fred Ford. He's still green at the moment but is a very fun horse to ride and will be exciting for next year. I had a great week away working at my trainer's Chris Burton schooling his Le Lion horses whilst he was away in Boekelo – it was a fantastic experience going to someone of his calibre and I feel very privileged that he trusted me to ride them whilst he was away.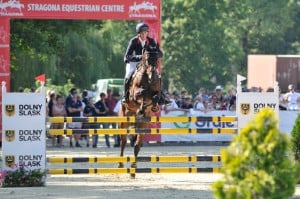 I'm delighted to have come 4th in the U21 Goldman Cup, improving on my 11th place from last year. Hopefully next year I can push on even more and try and challenge for the top couple of spots. For winning the Europeans and consequently being the best placed British rider I will receive the Sir John Burder trophy at the ERA awards. I have just come back from a fantastic evening at the Animal Health Trust UK Equestrian Awards 2015 where I won the new U25's Star of the Future category. It was an honour just to be nominated from Eventing and to win against other incredibly talented nominees was very special. It's nice to have a little bit of rest now the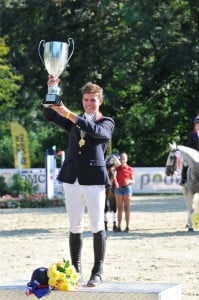 season has finished but horses are starting to come back into walk work and others have been kept in light work so there's still enough to keep me busy. I'm incredible grateful to Feedmark for their continued support and I owe a huge part of my success to them as they have been one of my longest serving sponsors. By using the supplements I know that my horses are getting everything they need in their diets and can perform to the best of their ability. Let's hope that 2016 can be just as successful! Will