Our Director of Science and Nutrition, Dr Wood, explains Bespoke All-In-One™ and how it benefits you and your horse…
Discover the most cost-effective way of feeding proven supplements.
Feedmark's supplements are developed to provide your horse with consistent levels of specialised ingredients which are selected to perform specific functions. Depending on the dietary support you want to provide, you can find yourself adding several supplements to your horse's feeds. There are no issues with this from a nutritional perspective, but it can be time consuming measuring out the daily amount of each supplement, and a concern if you ever have to ask others to make up your horse's feeds as they may get confused about instructions or amounts to include.
An effective way to make feeding supplements much easier is to use Feedmark Bespoke All-In-One™.
WHAT IS BESPOKE ALL-IN-ONE™?
Bespoke All-In-One™ is a service offered exclusively by Feedmark. Just enter your horse's weight, condition and workload on the dedicated pages on our website, then select the specific supplements you want to put together from our range of products. Up to seven products can be included. The active ingredients within each of the selected supplements will be calculated by our Nutritionists to meet your horse's specific requirements based on their individual characteristics, and a bespoke formulation is created. The final product contains the active ingredients from each of the supplements you selected, combined into a single tub that provides the correct daily serving of each active ingredient. Your horse's Bespoke All-In-One™ can be supplied as a monthly subscription, or as a one off purchase of 30, 60 or 90 day's supply.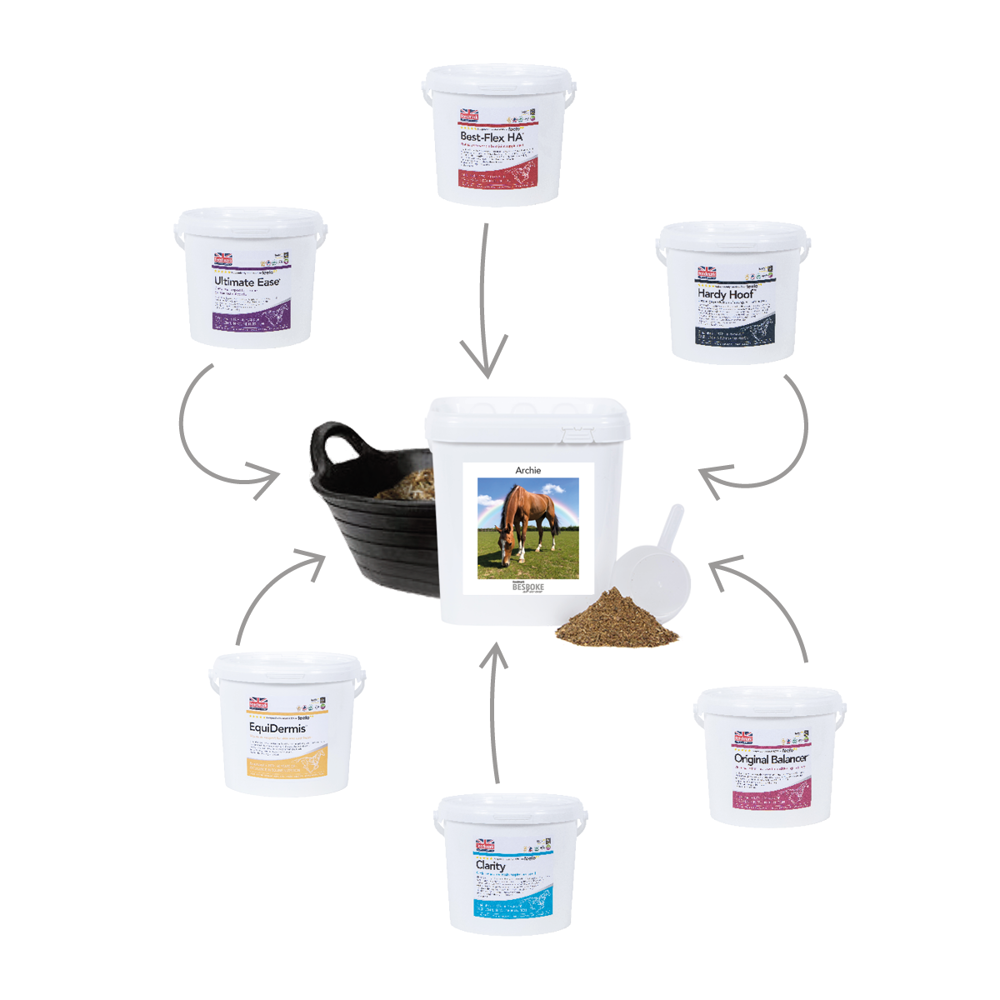 WHY DOES IT REMOVE THE NEED FOR BASE PRODUCTS?
The term 'active ingredients' refers to the ingredients within supplements that have a functional role, for example vitamins and minerals that are required to sustain life, or Glucosamine that is fed for mobility. By using only the active ingredients from each selected supplement the use of base products is considerably reduced.
Base products are required in some supplements to make daily servings practical to feed, especially for those with few active ingredients, as measuring very small quantities is inaccurate and often leads to over-feeding due to owners thinking the amount is too small to be beneficial to the horse's diet. Base products also improve product consistency and palatability, so are important components of some supplements.
By creating a Bespoke All-In-One™ formulation you can be sure you are feeding a concentrated, nutrient-rich supplement to your horse.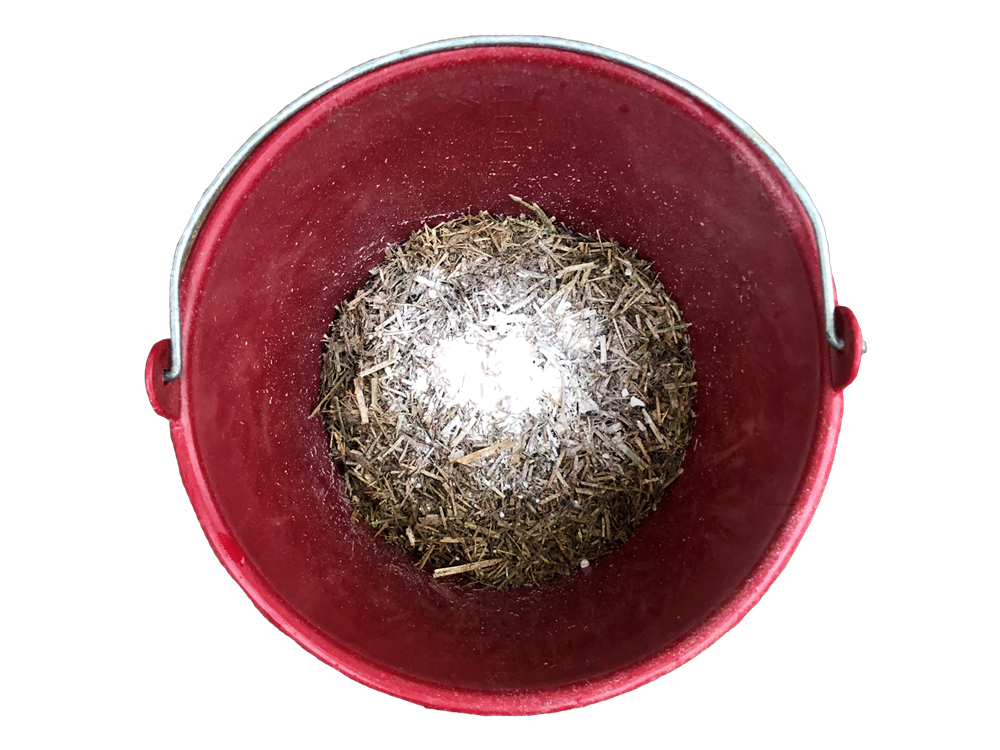 WHY DOES BESPOKE ALL-IN-ONE™ MAKE LIFE EASIER?
In addition to being a high-quality supplement, Bespoke All-In-One™ is the most practical way of providing specific nutritional support in your horse's diet…
You only have to measure the daily serving for one supplement, meaning you save time every day and can leave easy-to-follow instructions should someone else have to feed your horse.
SAVE SPACE + REDUCE PLASTIC WASTE
One personalised supplement also reduces the number of tubs in your feed room, helping towards a tidy yard. Your first supplement will be sent in a tub with your horse's name and photo on the front. After that, if you choose the monthly subscription option, all subsequent deliveries will be sent to you in a recyclable paper bag – helping you to reduce plastic waste.
Bespoke All-In-One™ is more cost-effective as you will receive your horse's formulation at a lower price than if you purchased the supplements individually. This is because Bespoke All-In-One™ has its very own discount system, which automatically increases the discount with every supplement you add to your formulation.
If you choose the monthly subscription option your horse's supplement will be automatically sent out each month, meaning you do not have to keep track of various supplements that last for different lengths of time, nor do you need to worry about running out or reordering. Reordering a Bespoke All-In-One™ as a one off purchase is easy. Your formulation is saved in your account so all you need to do is add it to your basket, there's no need to make a new one.
CHANGE OR CANCEL AT ANY TIME
Your Bespoke All-In-One™ is under your control so you can amend the supplements included as your horse's requirements change, for example if they lose or gain weight, or if you want to support specific health concerns.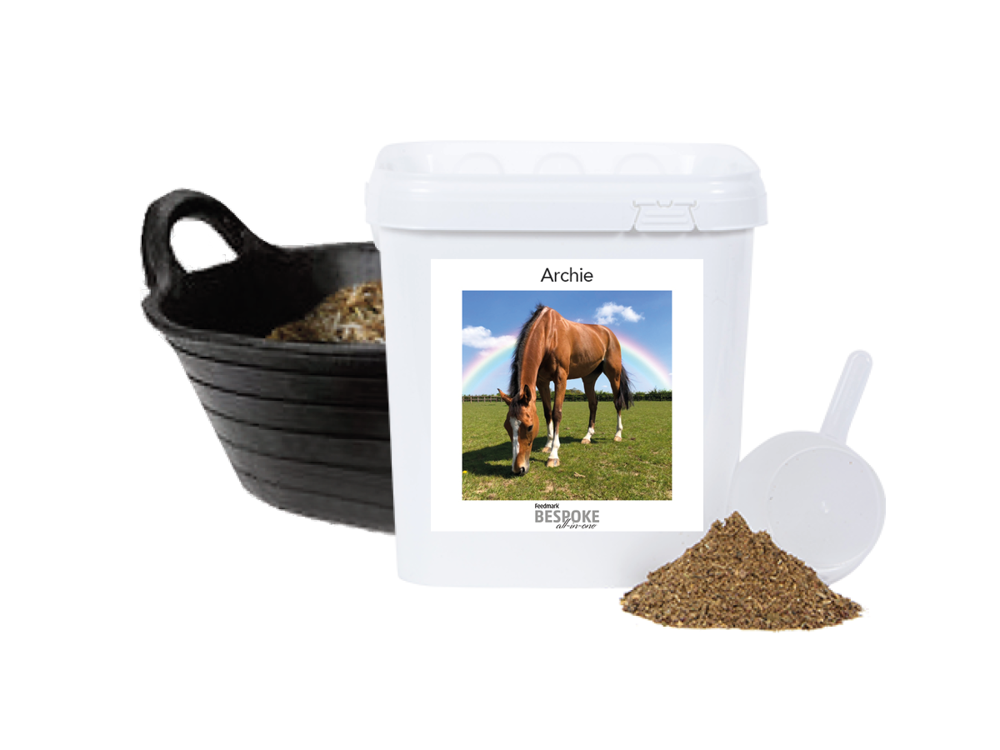 Dr Wood's final thoughts…
The combination of being able to give your horse quality Feedmark supplements in a convenient, cost-effective and easy-to-manage way which completely simplifies feeding, is what makes Bespoke All-In-One™ the obvious choice for you and your horse.
Dr Stephanie Wood BSc (Hons) RNutr R.Anim.Tech
Director of Science and Nutrition
Feedmark