With horses, the best-laid plans can go awry – which is why you need to include a little leeway. Even then, you can't avoid occasional disappointment; I bet you've had times when a horse seems to carefully remove his shoe on the morning of a competition. That's disappointing enough, so I can only imagine what it's like for riders who have to pull out of a competition or team that represents the pinnacle of their ambition. It happens: in 2016, Izzy Taylor had to withdraw from the British eventing team for the Rio Olympics when Allercombe Ellie suffered a slight injury in training.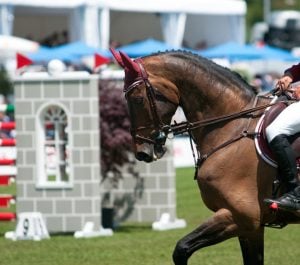 Izzy remained dignified in disappointment despite missing out on what must have been the pinnacle of her equestrian career so far. How sad, then, that two amateur riders were disqualified from the 2017 British Showjumping National Amateur & Veteran Championships after their mounts tested positive for prohibited substances. While there was no confusion over these cases, the whole business of prohibited substances can be a nightmare. Whatever discipline we compete in, at whatever level, we must keep up to date. Vets and good equine nutritionists can help, but the buck stops with you. You might not agree with the system simply because it's so complex and changes occur frequently, but it's there for horse welfare. Who could argue with that? If your vet advises that a monitored programme of medication will keep your horse comfortable and enable him to remain in an appropriate level of work – thus helping the horse physically and mentally – that's a good enough reason. If you feel it's OK to give anti-inflammatory medication to allow you to compete in a particular competition, please think again. I'm not talking about nutritional support, which can be a huge help for horses and people, although you need to be careful that ingredients do not contravene any rules. I'm talking about Phenylbutazone and its metabolite, Oxyphenbutazone, which were at the centre of the two showjumping disqualifications referred to earlier. There is a difference between medicating to relieve pain and improve quality of life, and medicating for competitive gain. Ambition must never blur that line.
While competing isn't everything, how disappointing must it be for the original runners-up in these showjumping finals, who now take the titles? They should have had a glorious day, enjoying a lap of honour at a prestigious championships so they could show off animals of whom they were so proud.
There is already a move to stage a prize-giving at this year's championships so they can be acknowledged, but will it always be tainted by what happened? How would you feel if it happened to you? Full marks to British Showjumping, which says in a media statement: "British Showjumping would like to stress that there is a zero tolerance for members who choose to compete ignoring the prohibited substances list.   Equine welfare is of paramount importance to the Association as is ensuring best chance of fair competition and the opportunity for Championship winners to enjoy their triumph on the day rather than respectively in this way." Some people grumble about regulations, mainly because the list of prohibited substances and controlled medication gets longer by the minute. However, the powers-that-be do listen to vets and make changes when necessary. For instance, the FEI says that for 2018, Cobalt remains a controlled medication, but a screening level will be implemented instead of an international threshold. The screening limit will be set to a level that will prevent unnecessary positive cases associated with the use of vitamin B12 supplementation. Cyclosporine becomes a controlled medication rather than a prohibited substance, "in acknowledgement of its important use for the treatment of ocular disease, in particular equine recurrent uveitis." The FEI will monitor its use. Riders who think they can break the rules and not get caught are kidding themselves. Mandatory and random dope-testing is becoming more sophisticated and more common. Let's all be fair – to other riders and, even more important, to our horses. For free advice on feeding supplements, call 0800 585 525, chat online via www.feedmark.com or email [email protected]