Dr. Stephanie Wood
PhD Equine Nutrition, PgDip, BSc (Hons), RNutr (Animal), R.Anim.Tech
Feedmark's Bespoke All-In-One™ is the most efficient, economical, and sustainable way to feed your horse supplements. Without compromising on nutrient levels and ingredient quality, Bespoke All-In-One™ makes feeding easier, cheaper and safer as only one supplement needs to be measured out and added to the feed, and the formulation is specific to your horse or pony's individual requirements. But you may be wondering how Bespoke All-In-one™ supplements are formulated if they are specific to individual animals. Read on to find out…
1. The first step is to create your horse's profile on the Bespoke All-In-One™ system on the Feedmark website. You include your horse's body weight, workload and condition, and also a picture of them which is then printed on the Bespoke All-In-One™ label, making identifying supplements for particular horses much easier.
2. You then select the nutritional support you want to give your horse. You choose between two and seven supplements to include in the Bespoke All-In-One™ formulation. An example formulation would be Best-Flex HA®, Hardy Hoof™, Ultimate Ease® and Clarity®.
3. Once we receive your Bespoke All-In-One™ order we then calculate the daily amount of active ingredients that your horse requires for each supplement option. This is done on a per kilogram of body weight basis, accounting for their workload and body condition.
4. The amount of active ingredients required per day are then multiplied by the number of days the Bespoke All-In-One™ is to last for. 30, 60 or 90 day options are available. The required amount of each ingredient is then carefully measured out using industry standards and equipment, and following BETA NOPS guidelines.
5. Daily feeding rates are then calculated for your horse, specific to their requirements and the nutritional support you selected. This information is provided on the product label and on a personalised email sent to every customer.
6. The Bespoke All-In-One™ is created by mixing all the ingredients together until they are fully combined, and samples of every individual formulation are taken for quality control and to ensure complete traceability.
7. The completed Bespoke All-In-One™ is packaged in either a sturdy tub or a refill bag which includes your horse's picture, making it easy to ensure they are getting their own supplement.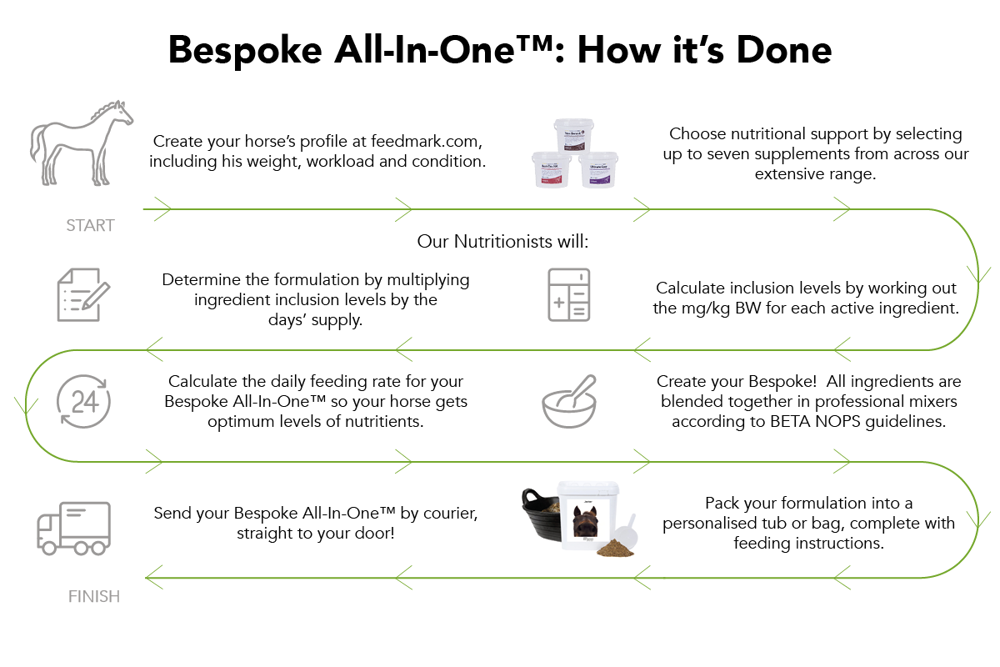 There are claims made by other companies that our Bespoke All-In-One™ supplements are simply our individual products combined, however this is incorrect and would lead to the proportions of ingredients being wrong. Our individual products are used as guides for customers when selecting what support to include in their Bespoke All-In-One™ formulations, as many owners would not be familiar with the many different ingredients used in our supplements, and so would not feel confident selecting specific ingredients. We want to reassure you that we calculate, measure, and combine each individual ingredient for your horse's personalised Bespoke All-in-One™ formulation to match their bespoke requirements.
To start making your horse's Bespoke All-In-One™ tap here.