Dr. Stephanie Wood
For many owners and riders competing is the highlight of being with our horses. At all levels of competition there are rules to follow to create an even, unbiased and fair competition where placings and prizes are based on desired qualities and the best performance. Affiliated competitions have structured competition levels and/or classes where competitors earn points or qualifications to compete at a higher level, with placings often associated with prize money and grading of horses. Specific discipline governing bodies run affiliated competitions and develop their associated rules, although for most disciplines the rules align to those of the International Equestrian Federation (FEI). The FEI, and therefore affiliated equestrian disciplines, have 'Clean Sport' programmes which set out regulations that prevent competitors using products, medicines and feedstuffs that can influence the horse (or riders) performance in either a positive or a negative way. Use of such products, medicines or feedstuffs could place competitors at an unfair advantage, or disadvantage, over other competitors, eradicating the unbiased basis of competition. It is ultimately the responsibility of the person competing the horse to ensure they comply with these regulations and do not break the rules due to a positive drug test.

Feeding is one area which can seem daunting to owners and riders as there are so many products available to feed, however there are ways of minimising the risks of feeding a prohibited substance.
FEI EQUINE PROHIBITED SUBSTANCES DATABASE
The FEI publish an Equine Prohibited Substances List (EPSL) and have a database which lists all compounds that are prohibited for horses competing (inside.fei.org/content/anti-doping-rules). Some compounds are derived naturally from something the horse may eat, whilst others would have to be fed to the horse deliberately. The database also includes medicines. Each substance on the database is classed as either banned or as a controlled medication:
Banned substance - these have no legitimate use in the competition horse and/or have a high potential for abuse. They are not permitted for use in competition at any time.

Controlled medication – these substances have therapeutic value and/or are commonly used in equine medicine. Controlled medications have the potential to affect performance and/or be a welfare risk to the horse.
The database is updated periodically so it is recommended that competitors check if anything they are feeding, or any medications the horse receives, is prohibited under competition rules. The database is easy to use although knowing the potential metabolites (products of metabolism) of certain ingredients or compounds is helpful as these are included rather than the ingredient in some circumstances. For example, Harpagoside is listed as a Controlled substance, and is found in Devil's Claw. The printed database only lists Harpagoside, whereas the searchable online database lists Devil's Claw and Harpagoside.
The database also lists some compounds as Specified substances. Such substances are banned, and so have no legitimate use in competition horses, however they are substances which can be consumed unintentionally through contaminated feed. Examples of such substances include Atropine which is found naturally in Deadly Nightshade plants, and Hordenine which is found in sprouted barley grains. Some substances can also be consumed by feeding horses products that are not designed for them, for example, coffee, tea, chocolate and cakes are all likely to contain caffeine and other prohibited substances, alongside having the potential to upset your horse's digestion.
REDUCING THE RISK
There are a number of actions you can take to reduce the risk of your horse consuming prohibited compounds. Feeding products that are manufactured by companies that sign up to the BETA NOPS Assurance Scheme is a good place to start. NOPS stands for Naturally Occurring Prohibited Substances. Substances classed as NOPS are present in feed and food materials naturally, and have the ability to cause a positive drug test if consumed, either accidentally within the feed eaten, or by contaminating feedstuffs they come into contact with during manufacture, storage or transport. NOPS certified companies undergo audits where they must show how they reduce the risk of NOPS within their products, through a combination of testing and monitoring of ingredients and end products, purchasing from quality suppliers, and assessing the risk of every ingredient, procedure and process they use within their business. Through these actions the risk of NOPS within products is reduced, however it must be highlighted that BETA NOPS certified companies are not permitted to state that any product is free from NOPS as by the nature of their occurrence, traces of them can be present in natural ingredients. This is a requirement of the BETA NOPS code and any company that states that their product is free of prohibited substances is breaking that code.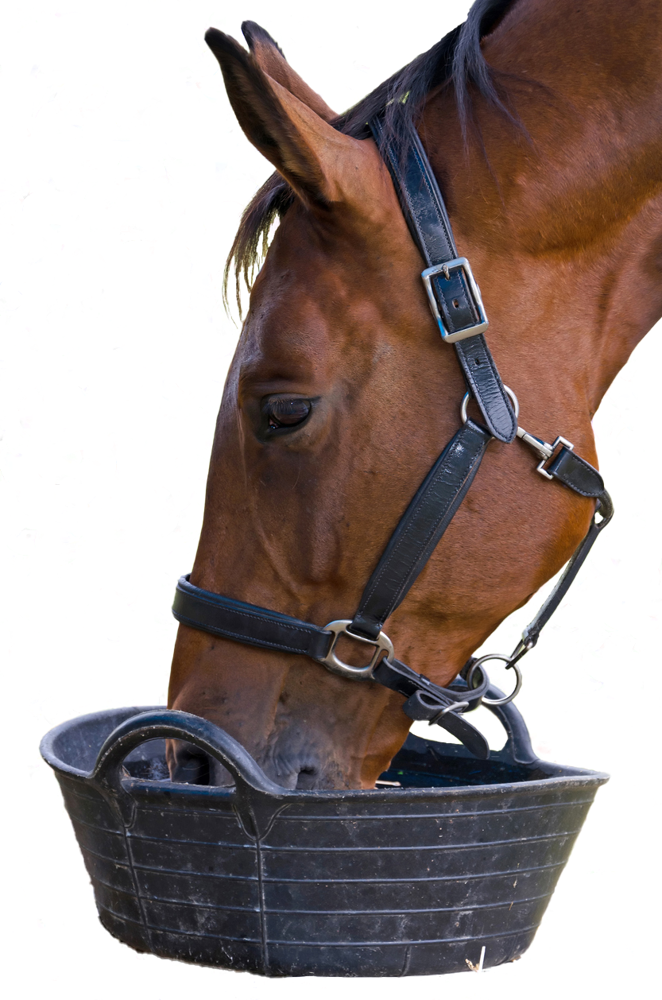 Alongside purchasing from a BETA NOPS assured company and only feeding products designed for horses, you should also ensure that feed buckets are cleaned regularly and ideally are only used for one animal. This will help to reduce cross over of medicines or ingredients that include prohibited substances, from one horse to another.
ARE ALL PRODUCTS WITHOUT NOPS PERMITTED IN COMPETITION?
One question we often get asked is if our products are permitted in competition. As a responsible manufacturer we will always list all of our ingredients on our product labels and on our website. We also highlight any substances we know are prohibited on the specific product pages, making it easy for customers to identify if a product is suitable for their horse.
For some products however it is not that straight forward. Most competition rules state that nothing should be administered to the horse that will influence its performance, either positively or negatively. Products that are designed to help horses relax could be interpreted as influencing the horse's performance, even though there maybe nothing in the product that is a prohibited substance. In these situations, it is up to the owner or rider to decide how they should best support their horse and if they want to feed such a product. Nothing can replace correct training and getting horses accustomed to new experiences, however some horses do benefit from additional nutritional support.
TALK TO US
With the large amount of time and effort that goes into preparing horses for competition, the Feedmark team want you to know that we are always here to answer any questions you have about any of our products, and how to best support your horse in training and during competition. We will happily share our ingredients as we believe that it is important to be transparent, and our nutritionists regularly attend conferences and industry updates to remain up to date with nutrition information and the best options for optimising your horse's performance.