It was Fantom's time to have a go at the ultimate 160km competition as my last chance to qualify for the European Championships. 
Preparation went swimmingly, the only comment I could make is that Fantom had a slightly rounded stomach rather than the lean, mean athletic look of a top endurance horse.  He was duly washed and washed, a new haircut and all his things packed with nothing forgotten.
Fantom travelled pretty well, slurping at his specially-prepared drink and eating a fair amount of haylage and generally arrived in fine fettle.  Again we had a day to spare where we did lots of grazing in hand as there is no corralling at Euston Park, and enjoyed a couple of laps around the training loop.  Pre-ride vetting was just a formality and we were good to go.
This time the start wasn't until 7:00 am but the day was cooler for Fantom's attempt than Chiara had two weeks previously.  A couple of days before when the start lists went up I realised that I would be the only Brit in the 3* and, apart from the usual UAE contingent, there were only three others.  For Chiara this would have been ideal as we operate better on our own, but for Fantom this was a potential disaster as he needs other horses with him for motivation.  There was only one other class out on course that day and it was clear that our paths wouldn't cross so I realised I had no choice but to ride with the other Europeans.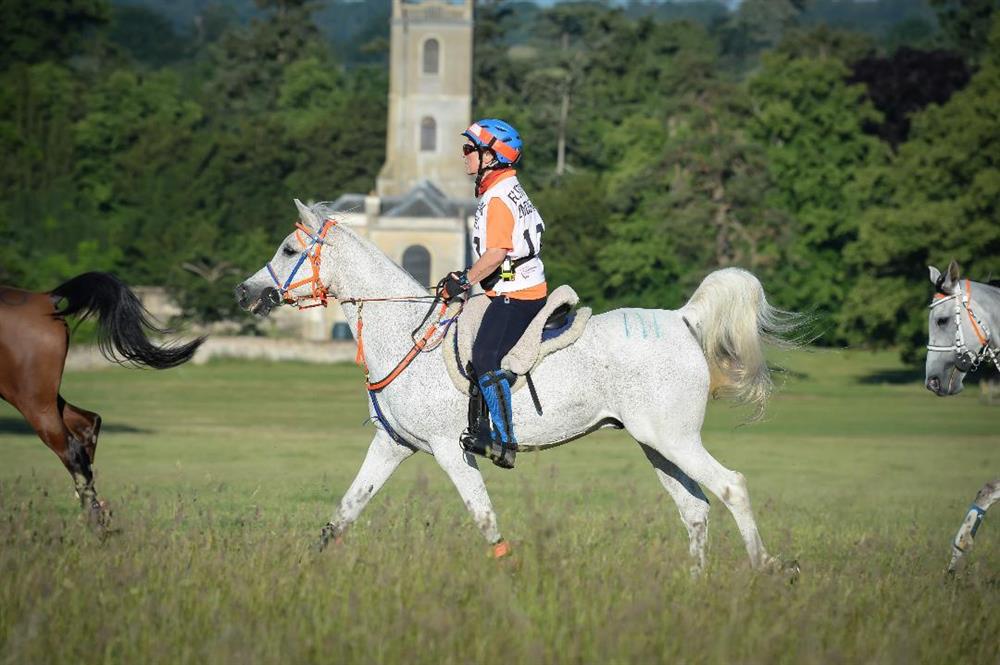 I knew that Fantom had not been prepared for the faster speeds as it was a qualifier for us rather than a race and I had originally intended going steadily round at about 15kph so maintaining an average of between 17 and 18kph was an enormous ask.  However, we had to try and continued riding with a Norwegian lady until near the end of the penultimate loop when Fantom had had enough so we walked the last 5 km back to the venue and passed both the vetting and recheck but retired rather than go out on the last 20 km loop.  It was so disappointing but there was really very little choice as Fantom's welfare has to come first.
We duly returned home and Fantom has had a good long rest and his pads taken out.  It would appear that he had sore feet probably from a combination of concussion and wearing the pads.  Maybe in the future we won't put pads in unless the course is known for the wicked flints that abound at Euston.
I have been wracking my brains regarding Chiara's eating and drinking and stressy behaviour in vetgates and decided to practice by taking her to a ride in Dorset which is only about 3.5 hours away which is long enough to try eating and drinking in the trailer and an overnight corral as well as a halfway vetgate on the ride.
Travelling was better with more hay being eaten and a little playing with the water, and on arrival the grass appeared to be delicious and much better than she was used to so Chiara ate and drank well all night, even eating some of her hard feed.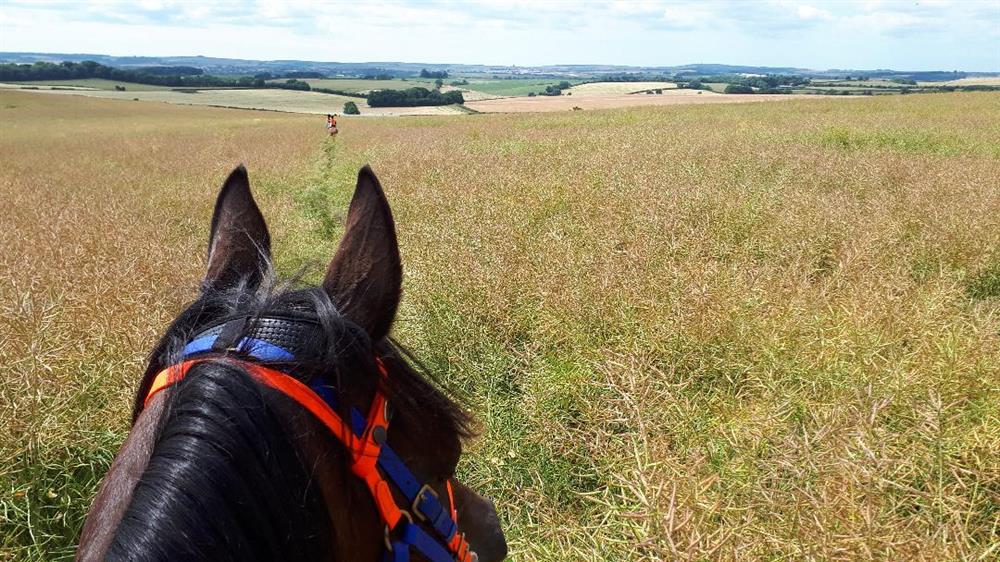 It was another hot day but we set off early and were first out on course.  The only downside of this is that I had to concentrate hard on the navigation as I hadn't been there before.  It was a lovely varied ride with virtually no roadwork with river crossings, narrow paths between rapeseed above Chiara's head and lovely grassy cantering stretches.  The miles flew by and we arrived back for our halfway vetting.  I did bring her in off the course slowly as there were only the two of us to practice presenting to the vet as quickly as possible but I needn't have worried as Chiara was calm and quite sensible and we managed to present in about 5 minutes which we could have done much quicker if we had full crew.  Because of this 'speedy' presentation time we won a lovely horseshoe trophy which was an unexpected joy.  All in all it was a pretty successful weekend.
Poor little Chiara had a touch of colic a few days after her outing and of course the vet was immediately called and arrived with impressive speed.  After a little medicine Chiara was fine and went under 24-hour observation for a while but it was apparent that she had recovered.  Feedmark were amazing sending out a tub of BioPro (pre and probiotics) which helped enormously and from now on she will have this in her bespoke Formulate supplement.
Now to plan the rest of the season…