As the cost of living continues to increase, we are all looking for ways we can reduce what we spend, and this also applies to how much we spend on our horses.

In the final part of our series of informative blogs, Feedmark's Director of Science and Nutrition, Dr. Stephanie Wood, looks at supplements and how to use them in the most cost-effective way.
BESPOKE ALL-IN-ONE™
The nutrient dense nature of all Feedmark supplements makes them a cost-effective way of providing high quality nutrition to balance your horse's diet and support their health and performance. However, Feedmark's Bespoke All-In-One™ takes supplementing your horse's diet to the next level whilst saving you money. Bespoke All-In-One™ provides a tailor made, bespoke formulation developed for your horse or pony's individual body weight, body condition and workload. This means you are only paying for the nutrients your horse or pony actually needs. You can select to include multiple supplements or a single product, with a discount applied to each supplement option you include, saving you up to 40%.
Bespoke All-In-One™ also saves you time and simplifies feeding. By having all of your supplements in one formulation you only need to remember to re-order one product, saving you time. Feeding is also quicker and simpler as you only have to measure out one supplement, and it also reduces the potential for errors if others make up your horse's feeds.
HOW DOES BESPOKE ALL-IN-ONE™ WORK?
The best way to understand how Bespoke works is to have a look at some examples...
Jester is a 14.1hh competition pony competing at BE100. He weighs 390kg and is in medium work to ensure that he is fit enough to compete. He is currently out for 6 hours a day on a strip grazing system as he gains weight very easily, and is fed soaked hay. Jester's owner has chosen to include four options in his Bespoke All-In-One™: SlimAid™ to make sure he's getting all the vitamins and minerals he needs without any extra calories, Replenish™ to replace electrolytes lost in sweat, Natural vitamin E™ for healthy muscles and V-Flex™ to support mobility and hard working joints. The cost of each option is calculated to Jester's weight, condition and workload, plus because Jester's owner has included four options they have also received a 30% discount, saving over £40 on a months' supply!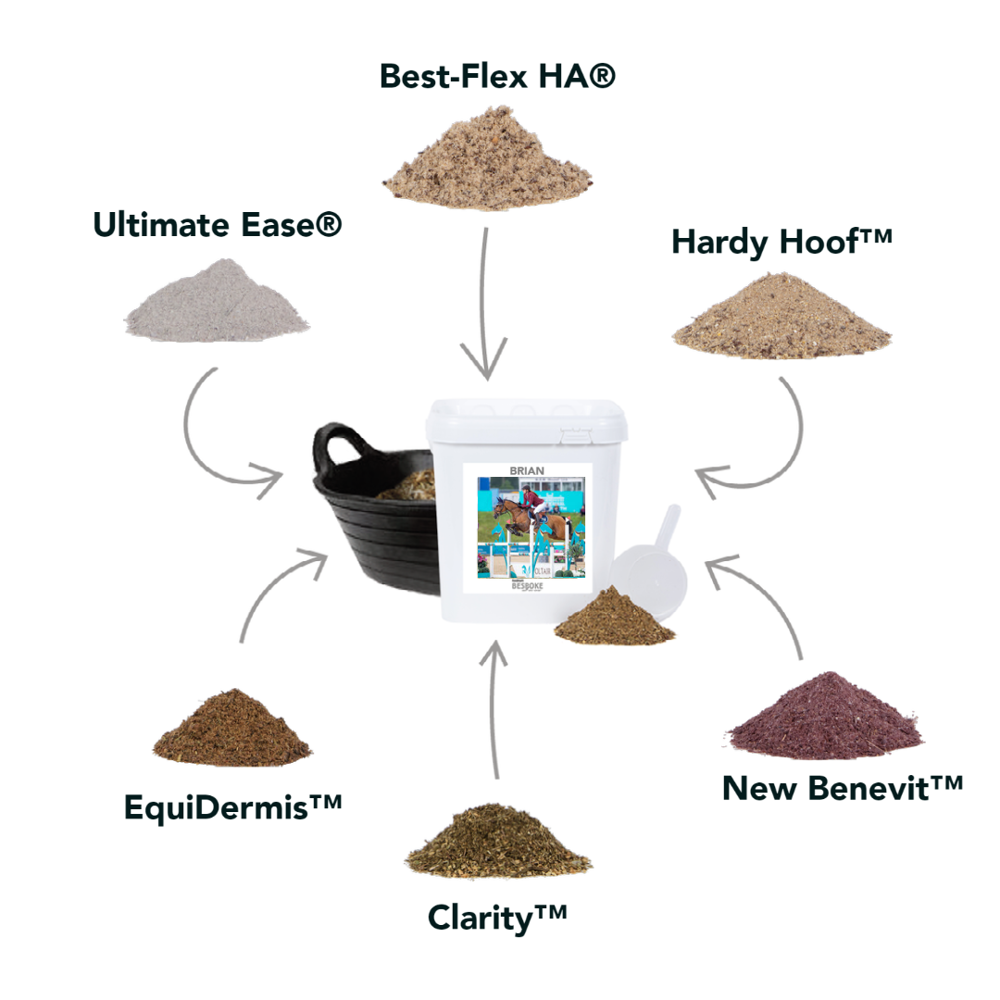 Flo is a 16.3hh mare that enjoys hacking and schooling three times per week with her owner. She is stabled at night, out on good grazing during the day and is fed haylage in the stable and a small amount of chaff. She can struggle to maintain weight, and suffers with respiratory allergies and itchy skin. Flo's owner has chosen to include four options in her Bespoke All-In-One™: New Benevit™ for 24 vitamins and minerals and no added iron to balance Flo's forage diet, Condition & Shine™ for weight gain and condition maintenance, Clarity® to optimise and maintain respiratory health and EquiDermis™ to provide maximum support for skin and coat health. By combining Flo's supplements into a Bespoke All-In-One™ Flo's owner has saved nearly £50 on a months' supply, and they also get the choice of ordering a monthly subscription or a one off supply of 30, 60 day or 90 days making it even easier to ensure Flo gets all the nutritional support she needs.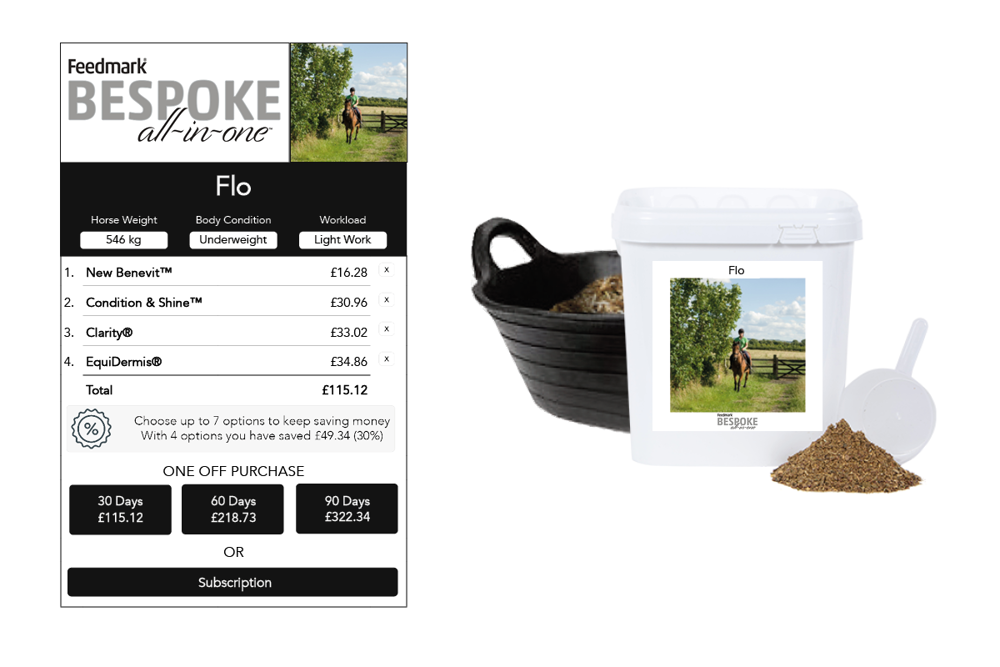 To find out how Bespoke All-In-One™ can make supplementing your horse more cost-effective, just go to the Bespoke pages on our website and follow the instructions to create a profile for your horse. Add supplements from our extensive range of products and let Bespoke All-In-One™ help you to feed better for less™!
To find out more about how to feed better for less™ be sure to have a look at the other blogs in the series:
Feed better for less™: maximise the efficiency of your feeding plan
Feed better for less™: balancing the forage diet and saving money
Feed better for less™: maintaining performance on a forage diet