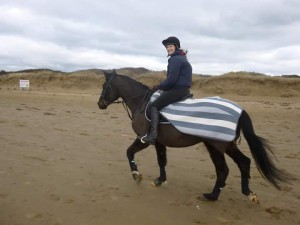 22-year-old Bas is our new Horse Of The Week, and has been owned by Angie Jones-Moore for the past five and a half years. Angie explains: "My horse Mr Basil B is a 15.3hh, veteran thoroughbred, and a very lively one at that. We primarily hack and take part in low level dressage, and we often have lessons with a local trainer to keep us both switched on. I took Bas to the beach before he was unwell and it was fabulous. Galloping with no restrictions was the most exhilarating experience, no need to pull up quickly because of gates either! Bas has taken part in eventing in the past, his previous owner took part in an awful lot of dressage when he was younger, he has won all manner of competitions and was supreme champion on one occasion. Last year Bas had a problem that lead him to be put on box rest.  Unfortunately, after this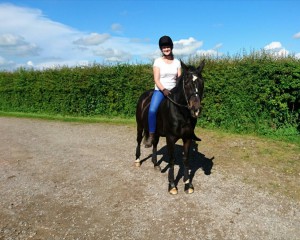 period his legs would get very fat when kept in; and as he is a very good do-er, I keep him stabled at night all-year-round, to restrict him from feeding his face non-stop! I took it upon myself to have a look on the internet and I found No Fill, being completely natural I felt confident that I could try Bas with it and even if it didn't do any good the supplement certainly wouldn't do any harm. I am always nervous to try new supplements because he is so sensitive, I don't like to upset his well-balanced gut. The tub was a lot bigger than I thought and I soon realised why when I opened it, the herbs smell great and are not mashed into powder or granules, they look like dried herbs should. Bas ate the No Fill with ease and I increased the quantity to the recommended amount over a number of days.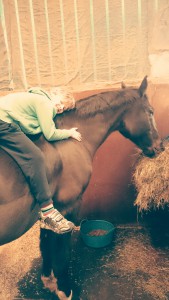 After feeding for a month, I have to say I have noticed that Bas' legs have seemed normal for a while now. I will continue to feed No Fill and I am going to try Bas for a short period in the stable with no leg wraps, to see how his progression goes. Bas is well loved and part of our family, we became 'Team Bas' when he was poorly, my husband and two children are all very good at bandages and leg wrapping now! I see Bas twice a day, every day and we have a very close bond, we ride anywhere and everywhere with no trouble at all. I trust him and he trusts me too. I am really pleased with the results so far; they can only keep getting better! I am building Bas' fitness at the moment, we have been restricted to walk for almost a year! I hope to enter some local dressage competitions before summer is over, and with the help of No Fill his legs will be more than up to the job!" A FREE tub of No Fill is on its way to Bas for being our Horse Of The Week!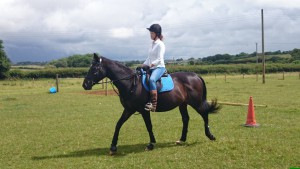 COULD YOUR HORSE BE THE NEXT HORSE OF THE WEEK? Each week, the Feedmark team select a horse of the week from reviews, letters and emails sent to them. If you would like your horse to feature, then please send your horse's details in to [email protected] .