Is it just me or this damp, wet, dreary weather, getting a bit boring now? We are very lucky where I live in West Sussex – beautiful views, great hacking, never too much snow. However, I really wish we were not on the deep, heavy clay ground, that just turns to sludge at this time of the year!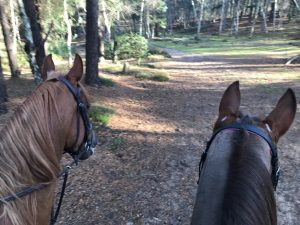 Luckily, we are not too far from the sandy soil, so we have been travelling Layla and Magdy up there once a week to do some faster fitness work. They have really enjoyed this and are definitely feeling well ahead of the 2018 endurance season! I am really pleased that post exercise their recoveries have been really promising, with both horses having heart rates of sub-60bpm before untacking. Alongside this exercise, both horses have one schooling session, one lunging session and three slower training rides from home. I think it is so important to include schooling and lunging into any horses' training, whatever their discipline, as it's vital to have a supple horse, that's working from behind and not on their forehand. This enables each horse to be as energy efficient as possible, which is especially important for endurance. As we get closer to the start of the season, the length of our training rides will increase to enable the horses to be fully prepared ahead of their competitions.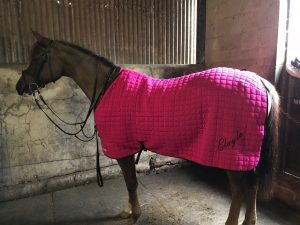 The plan for both Layla and Magdy is that they will both go to early 80km competitions in March. Mandy Yarnold's Marley, will also be joining them, so fingers crossed for a positive start for the season. This will hopefully be Magdy's second 80km qualifier for his CEI 1* qualification. We are lucky this year, as there are some new FEI compeititons on the calendar which will give us more choice and ensure we can get to a competition at the peak of their fitness. Whilst all this training is going on, my 4-year-old youngster, Omar el Nazeer, or Arnie as he's known at home, is enjoying having time out in the field.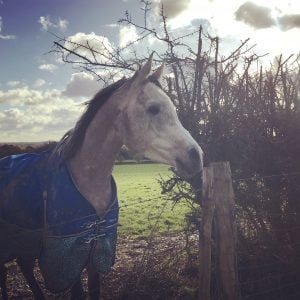 Eating, growing and playing consumes his days! At nearly 16hh already, I am giving him lots of time to grow and mature before starting the backing process. Over the next few weeks I plan to start some ground work with him, so by the time the summer comes, hopefully I will be able to get on board. He will probably be turned away again through the Autumn to allow for more growing time as Arabs are renown for taking extra time, and are also not usually this big! Roll on the spring!