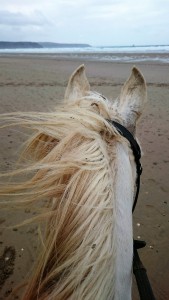 All change as far as Plans go! No, not the dreaded endurance gods this time (the curse of every endurance rider), Fantom and I are now on the Championship squad for the World Championships in September or October this year. Right, this sounds fantastic but in reality we still have to qualify by successfully completing a 3* together at more than the qualifying speed. The background to this sea change in the Watergate Endurance planning strategy is somewhat complicated. The Worlds were due to take place in December in Dubai which was something I was not entirely comfortable with in light of the recent welfare issues graphically presented in the media. However, the FEI stepped in and removed the World Championships from Dubai and they are now likely to be in Europe! This puts a whole new perspective on the issue. We had our first squad meet up day for 2016 last weekend and this is the point where my plans seemed to come together. Although the date and venue of the 'new' World Championships won't be announced until June, there is every chance that it will be held in Europe making it affordable and accessible for more combinations. (I really think it's about time the BEF dished out some of its funding to Endurance!)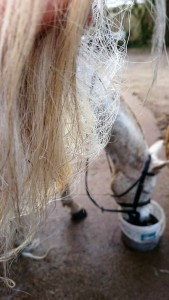 Back to the present, Fantom has now completed two weeks of walking with just one more week to go before upping the pace/workload a little. He looked like a round, furry tennis ball prior to this but I set about with determination straightening his tail, clipping his jaw and ears and removing as much of his winter coat as possible. Then I did something truly shocking – I hogged him; Fantom, a pure Arab! In my defence his mane had been badly rubbed by the rugs and it will be so much easier for him to thermo-regulate when in training and competition. One downside I hadn't thought about is that it is much harder to climb aboard with no mane. Dilmun, in the meantime, is progressing extremely well. The walking and gentle trotting phases have now past and he has started his canter and hill work as well as some (much-resented) schooling to improve his flexibility and maintain his topline. We have now had three sessions on the beach and dunes and each time Dil has got faster and faster culminating in a rather uncontrolled gallop back up over the dunes after having done his steady canter work on the beach! That he is feeling well is in no doubt, however he is still rather overweight and definitely not as fit as he thinks he is.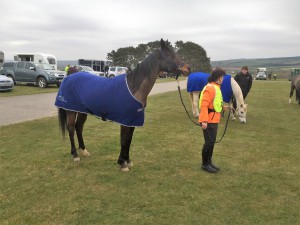 All of the horses are now back on Replenish as the workload increases. Feeding Replenish on a daily basis takes all the worry about the horses getting sufficient electrolytes to produce optimum performance during training and competition. Little Chiara has now done her first competition. This was local to us, less than an hour away and I took Wizard with her for moral support (ably ridden by my friend, Katherine). Vetting was somewhat challenging as the venue was at the Royal Cornwall Show Ground and the vetting was in a large, draughty, echoing livestock shed. Pre ride the pulse was sky high but we were allowed to start as it was clearly just excitement. The ride itself went very smoothly but also highlighted areas for us to work on. Maintaining a constant speed was quite difficult as the speed we were going at was quite slow and the ground conditions were varied. Gates of course were something we had to negotiate and something we need practice with but we do not have any suitable gates at home! Drinking also appeared to be a problem for her as, although she drinks well at home after exercise, she won't drink with her bridle on (not very practical for drinking on route!) All in all it was successful and the pulse lowered sufficiently at the end for us to pass so that's one under our belt.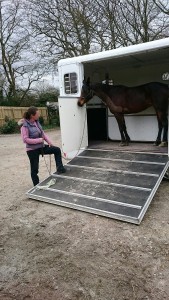 Just prior to this, Chi has some natural horsemanship sessions to try to persuade her to stand quietly in the trailer. Although she is happy to load and unload from the trailer, once on board she became increasingly agitated, cantering on the spot. After her third session she was self-loading and standing quietly in the trailer and even went for a short drive without company. I had planned to take her to another competition this coming weekend to get the first FEI novice qualifier as early as possible in the season. This would have meant doing a 40 kms competition which is only a little step up in distance from the 34 kms she did for her first one. The only one at all feasible at this time was one in Dorset approximately 4 hours' drive which would have meant a sleepover in a corral. This ride is also hilly with lots of gates and, on balance, I feel with the long solo trailer drive, the first ever sleepover and lots of gates it is too big an ask at this time. Instead we will wait another month for one much closer to home for her solo debut. Plans for Dilmun have now changed as a knock on effect from the change to the WEC. The plans are for Dilmun to make his 2016 debut this weekend in Chiara's place as a pre-race fitness ride and to test that everything is spot on. His first race will then be at the first of the newly-reinstated FEI rides at Euston Park where he will contest a 1*. This is a course he has always enjoyed in the past, having completed two 3*and 1 2* rides there. With Fantom now aiming at the Worlds and doing his qualifying 3* in July, Dilmun will probably not now go to Brussells for the Europeans dry run. Well, busy times ahead for Watergate Endurance!