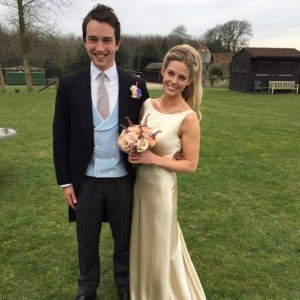 The new flat season is upon us, and we leave pleasant memories of the gallant performances witnessed at Cheltenham and Aintree behind to focus with huge excitement on those lovely jumpers speedier thoroughbred counterparts. Being a mainly flat focused yard, we are now in full swing and the lads are working all hours of the day to get the horses ready to perform to their best. Ben has been particularly busy, as he has had the small matter of a wedding (right) to get out of the way before we had our first runners! This was completed with plenty of dancing and much bubbly, and it was lovely to be able to celebrate before we had even had our first winner!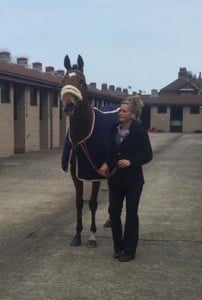 Obviously one is always keen to get off the mark as soon as possible, as it releases a fair bit of tension and worry that builds up over the winter. As our finely tuned athletes head out into battle, the usual questions arise – are they fit enough? Are they well? Please let us have done enough! However, we were delighted when the gorgeous, stubborn four year old filly Lady Lekki (left, with lass June after her win) duly obliged us at Redcar. Only our second runner of the new season, we were a little nervous as it was a trip a bit short of her ideal, but she showed tremendous battling qualities to prevail by a head over her nearest rival. A madam in the yard, and highly opinionated, these qualities play to her favour on the racecourse and that is now her second win from only four starts. She has come out of the race absolutely bouncing and very full of herself! We are really excited about her this year, and feel she will keep progressing nicely. We are looking like we will be sending a few runners out in the next couple of weeks, and whilst some will need that first run of the year to blow the cobwebs away, we now know through Lekki's performance that they are pretty much where we want them, so hopefully we will have some more reasons to celebrate! As the horses workloads increase, we our finding ourselves getting through Replenish at a rate of knots, and it is proving very effective at helping there recovery times. We have been relatively lucky with the weather this year (as lucky as you ever get in England!) and some of our two year olds are looking more forward than usual. We are hoping to see two cracking colts out in the next couple of weeks – Vaux (below) and Bourbonisto. Both strong, hardy horses, they are inexhaustible on the gallops and are showing us plenty of signs at home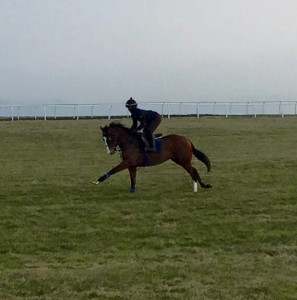 that they are ready and raring to go. As always with two year olds, you never quite know how they are going to react on the track, and we expect them both to come on loads for their first experience, but they are two lovely horses to go to war with. Vaux is owned by a very friendly syndicate called Ontoawinner, who are well worth checking out if you wanted a small taste of racehorse ownership – be warned though, it is highly addictive! Until next time, when hopefully we have lots more exciting news to bring you!