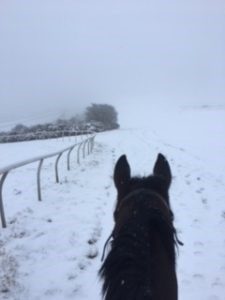 Good evening, Well, I am making a slow start to my New Year's Resolution's already, as clearly my main one was to keep everyone a lot more regularly updated on here!! I have been completely useless over the holiday period, and upsettingly cannot even blame the consumption of too much mulled wine!! Unfortunately, what qualifies as holiday season for the rest of the normal world tends to be quite unbelievably busy in a racing yard, and it has been best foot forward for the last fortnight or so to keep the show up and running here. Luckily, we haven't had many runners so have been focusing on keeping everyone at home fit and healthy. (Left, The Doorman overseeing a very wintery gallops!). I hope you all had a wonderful Christmas and New Year – the horses all had a lovely time eating Feedmark's delicious treats and will be doing plenty of work this month to get rid of their slight Christmas paunch! I am pleased to say that 2017 was a good year for the yard, and a good step forward in the right direction. We sent out 15 winners in total, and had the normal share of unlucky placed horses.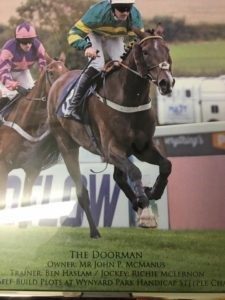 They ran consistently well throughout the year, with multiple winners The Doorman (right), Castle Hill Cassie, Lord Caprio and Rey Loopy giving us plenty to smile about, as well as individuals Skellig Micheal, Cup Final, Epeius (below), Camanche Grey, Prancing Oscar and Funkadelic. However, as always, there is room for improvement and we look to have a really nice team for 2018, and I sincerely hope we can move onwards again on the winner's ladder. Our 2 year olds look an absolutely cracking bunch, and whilst they aren't the earliest types, they are a big, strong bunch of horses. I am looking forward to their fast work I must say! Amongst the older horses, Castle Hill Cassie, Eponina and Rey Loopy should be improving four year olds, and there is definitely plenty more to come from Lord Caprio and Elysee Star. I am going to keep quiet about who I am most looking forward to, as I don't want to jinx her, but we have a very nice grey filly here who should build on her 2-year-old run nicely – hooves crossed!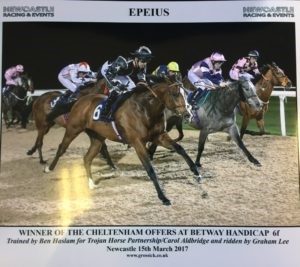 Finally, I want to say a huge thank you to all our owners for their massive support in 2017. We are incredibly lucky to have some trulywonderful people behind us, and there is no better feeling than getting a winner for any one of them. We are indebted to the syndicates Middleham Park Racing, Ontoawinner, Excel Racing and the Champagne Charlies, all of whom are truly excellent and it is a privilege to be able to wear their colours. We were also very proud to be able to give Lynn Douglas, Gary Walker, James Pak, Daniel Shapiro and David Clifford first winners this season in their respective colours, and hope there are plenty more days to crack open the champagne with them all this year! And of course, any day we visit the winner's enclosure in the green and gold of J.P. McManus is a proud day for all the team. 2018 was so close to getting off to the perfect start, when the delightfully mini Cherry Oak went to Newcastle for her first run of the year over 5 furlongs. She has the heart of a lion, and after being slightly slow out of the stalls ran her heart out to take 2nd. She was closing on the winner all the time, and may run there again on Friday over 6 furlongs. Slightly heart-breaking but it was a positive start to the year! Here's to a wonderful 2018!