It's been a little while since my last blog and lots has happened in that time, mostly all good and some bits not quite so good, as is the way with horses! The eventing season got well underway at our first event at Isleham where we had 5 horses competing. They all made a good start with Rebel picking up a 5th in the 100 and Mr B coming 8th in the novice. Spider tested the dressage judges sense of humour, having warmed up beautifully he went in and just couldn't contain himself for the first half scoring some 1's!! He then knuckled down and scored 8's in the second half and made up for it with a double clear jumping. It was his first event since July last year so a little bit of exuberance was to be expected.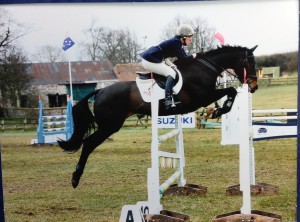 We then went to Poplar Park and had a fairly good weekend, Rebel was the dressage diva of the day scoring a 22, he ended up 9th after getting time penalties for going too fast cross country which is quite easy to do on him as he has a lovely big stride and enjoys it so much he wastes no time at his fences. Dora finished on her dressage score of 32, though it shows how the standard has risen as this was only good enough for 12th! Spider produced a much better test and a double clear. Mr B made a good start in the intermediate scoring a 31 and just touching a pole in the show jumping, unfortunately I had a fall from another horse cross country and banged my head so couldn't take him cross country which was really disappointing as he was feeling great. His next outing came at Lincoln in the Novice where he came out feeling a little fresh, neither of us enjoying the biting cold wind and did a fairly average test, 1 down and clear cross country. Not a terribly exciting day but at least he'd had another run. Next up was Great Witchingham and we were lucky to enjoy lovely weather and perfect ground there. The horses clearly enjoyed it too and all went well with Rebel and Spider both coming 5th and Dora finishing on a 29 for 3rd. Days like that remind you why you do it, riding lovely horses going well and even better getting to report back to their owners with good news!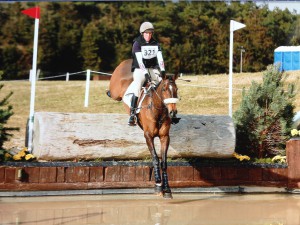 Burnham market was next on the agenda and we were stepping into the unknown slightly as they were all moving up a level. Dora had a fence down, which was definitely pilot error, and gave me a great feel round the cross country in her first 100. The few days hunting she had over the winter have absolutely been the making of her, she has come out attacking the cross country this year and feels better with every run, I was worried she was a little cautious last year but couldn't be more pleased with her now.Rebel really impressed me in his first novice, he jumped a really nice clear round show jumping round an up to height course so I was delighted with him as it's not his favourite phase. He loves the cross country and gave me another great ride round a stiff novice track for a first timer. However I'm still kicking myself for a run out a corner at fence 4, he is very sensitive and I was in two minds whether to swap my whip over or not and decided to change it but as soon as I went to move it he panicked and focused on me, losing concentration on the fence - I know never to do that again! It was frustrating as he would have been placed and I should have trusted him but he felt fantastic the rest of the way and certainly felt like he came home with a smile on his face. Mr B was doing his first. CIC 2* and was such a good boy. I felt slightly under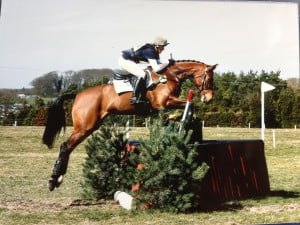 prepared having not had his planned intermediate run at Poplar Park but he felt on good form. Due to having a busy day with the other two and things running late we didn't end up with a lot of time to warm up for the dressage so I went for a safe test without putting any pressure on him as he's not yet established in some of the harder movements yet. He was very willing and we got through it which is all I asked for but it lacked oomph and the "look at me" factor to gain the higher marks. We scored a 58, so again this was no Charlotte and Valegro but it wasn't last, hurrah! He then show jumped brilliantly in quite sticky going, I got him a bit too deep to a parallel and had the back rail but other than he jumped out of his skin. When I walked the cross country I thought it been beefed up fairly compared with last years track and there was one combination that I thought was pretty tricky, the Olympic diamond hedge on a bending line to a narrow brush corner to another angled hedge. He set off well, not quite with his usual keenness and I think I had a too strong bit in him as he wasn't attacking his fences quite as much. However he was very genuine and honest at the Skinnies and combinations, but when we came to the hedge/corner combination we didn't have enough oomph and got there on a half stride and he didn't really have an option other than to grind to a halt. We came round again and he popped through very well so although it was frustrating I was thrilled with how he made the rest of the course feel quite easy and he finished well. It has made our decision about Houghton 2* as we're not qualified now but I had already decided we were lacking a bit of mileage at that level and we may now aim for an autumn three day instead.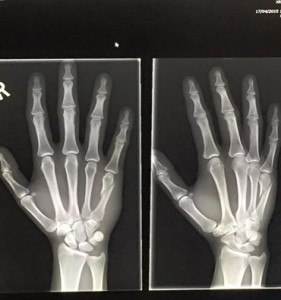 It's great to have got the first batch of events under our belts and so exciting to have some lovely horses to ride, they've come out and improved with every outing and I can't wait to see how they progress through the season. The only slight glitch in the plan at the moment is I managed to get bucked off a young horse and caught my fingers in the neck strap trying to stay on and have snapped a bone in my hand, not part of the event plan!! I'm hoping to be back in action fairly quickly and for the time being my fantastic groom Tilly is doing a lot of riding and I'm doing a lot of shouting! So the horses are ticking over and it won't take long to get them ready for an event once I can ride again. Luckily there are some good distractions coming up, like going to support my friend Harry Dzenis at Badminton again which will be really exciting and I've got everything crossed he has a good week! Hopefully I will be back with some more stories from events in my next blog